Discover more from Fintech Across the Pond
All things Fintech from Europe and US
Over 1,000 subscribers
Fintech "existential crisis". Huh?
Tweet of the week
Despite the news from McKinsey that fintech is facing "existential crisis", it was a great week for fintechs raising money with Chime and Klarna raising huge rounds and lots of news in challenger banking. A list of the top European fintechs and fintech VCs also.
---
If you enjoy reading this, please subscribe and share with your family, friends and other fintech enthusiasts!
---
Recent News 📰
🇬🇧The hottest 50 European fintechs to watch in 2020 has been unveiled. The Top 10 in the FinTech50 are as follows: Onfido, Checkout, Tink, Revolut, Raisin, OakNorth, WeFox, SolarisBank, ThoughtMachine and Comply Advantage. A lesser known and earlier stage hot ten can also be found here.

🇬🇧 Cledara has identified the top VCs that invested in the FinTech50. Coming out on top and each funding 5 of the top 50 is Anthemis, Plug and Play, Seedcamp, Balderton Capital and Augmentum Fintech. Notable mentions for angel investors Chris Adelsbach and Taavet Hinkrikus. Link for complete list.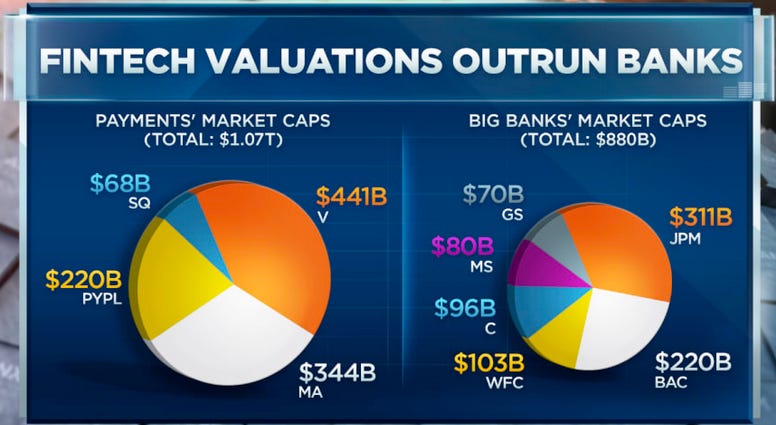 🇺🇸 With headlines out of McKinsey that fintech faces an existential crisis, you could be mistaken for doing a doube take considering that the market cap of Visa, Mastercard, Square and PayPal exceed that of the top six banks, paint a different picture. Source: CNBC.
🇺🇸 With the upcoming relaxation of the Volcker Rule restricting large banks from raising hedge funds and private capital funds, banks are predicted to raise funds to get back into the VC and PE spaces. It's not as if more capital in private markets was needed. Link.
Funding 💵
🇪🇺 Klarna raised a $650m round at a post money valaution of $10.65bn, crowning it the highest valued private fintech in Europe. Led by Silver Lake and alongside GIC and funds managed Blackrock and HMI Capital.
🇪🇺 Former CEO of Israeli bank Leumi and the founders of Payoneer and eToro are joining forces to lead Team8, a company building venture group with funding from Microsoft, Walmart, Barclays and Moody's. Link.
🇬🇧 UK regtech firm Konsentus has raised a pre-seed Series A led by Conviction Investment Partners. Konsentus provides a platform for identity and regulatory checking by banks by PSD2.
🇬🇧 London based Kindred Capital has closed its second seed fund of £81m. Kindred have a different model whereby the founders it funds get carry in the fund. In a world where VCs are starting to look the same, this "equitable venture" is certainly one way to stand out.
🇬🇧 Zilch, a UK fintech that enables customers to spread credit card purchases on Mastercard over six weeks raised $10m in new funds. For 0% and £0 fees when buying at a Zilch retail partner, a user can split up payments. This is a different take to the other BNPL companies and I think it will see good success as changing consumer behaviour, like BNPL companies are trying to do, is difficult and takes time.
🇺🇸Alloy, the identity verification platform, raised a $40m Series B led by Canapi Ventures and includes new investors Avid Ventures and Felicis Ventures. Existing investors Bessemer Ventures, Primary Venture Partners and Eniac Ventures also participated.
🇺🇸 Challenger bank Chime raised its Series F, a $485m round that doubled its December valuation to $14.5bn, earning it the title of most valuable American fintech startup serving retail customers. Catchy!
🇺🇸 Affirm also announced a $500m Series G led by existing investor GIC and new investor Durable Capital Partners. A number of other existing investors also participated in the round, including Baillie Gifford, Founders Fund and Lightspeed Ventures.
🙌🏻 Interesting to note that GIC is invested in both Affirm and Klarna. Doubling down on the hot BNPL is quite the statement.
🇺🇸 Finch, an all-in-one checking and investment account founded by a former N26 employee raised a $1.8m seed round. Finch will automatically invest your balance in ETFs suited to your profile but still allows instant access given the structure of ETFs. Finch, previously known as Trio, is using Synapse as its bank partner and Apex Clearing as its broker.
🇺🇸 Veem, a cross-border payments solution has raised $31m from the VC arm of Truist Financial Corporation. Also in the round were existing investors Goldman Sachs, Kleiner Perkins and Silicon Valley Bank.
Challenger Banking 🚀
🇬🇧 Jude Kelly, a women's rights campaigner has teamed up with former banking executives Olga Miler and Jacki Zehner to launch SmartPurse, a money coaching and learning start-up aimed at financial education for women.
🇺🇸NY based dv01 has partnered with SoFi to add student loal securitisation data to its data analytics loan platform. dv01 customers will have access to reliable data and integrated analytical tools to monitor SoFi student loan performance.
🙌🏻 The US student debt market is huge, with $1.5trn outstanding and the performance of this debt is likely to come under pressure due to the impacts of Covid. This partnership will only increase the appeal of SoFi for student loan securitisation investors and further solidify their position as a lender for students.
🇺🇸 Square added "Instant Payments" and "On-Demand Pay" features to its payroll solution for merchants. Instant Payments reduces the lag between employers paying and employee's receiving their funds, which can be up to four days. On-Demand pay allows workers to access their earnings as soon as their work shift has ended
🙌🏻 These two new features further increase the appeal of Square to its merchants and makes them even stickier customers. Both Instant Pay and On-Demand pay will continue to drive users to Cash App and its direct deposit functionality as they can receive their pay in minutes and keep the flywheel of Square's funnelling into Cash App spinning! Direct deposit take up is a key metric for Square.
🇺🇸 MoneyLion, the consumer digital finance platform has announced new investment solutions powered by Global X ETFs and Wilshire allowing members to invest in portfolios that reflect performance preferences.
🇺🇸 A new credit card launched this week. X1 bills itself as the smartest credit card ever, enabling usbers to quickly end free trials, cancel subscriptions and spend without disclosing your personal information. It uses income to assess credit limits rather than credit score and comes with a metal card.
🇪🇺 German Online lender Monedo filed for bankruptcy. The Peter Thiel backed startup suffered some defaults in Russia and India in December 2018 and never recovered. We have seen online lenders OnDeck and Kabbage sold at large discounts to their peaks and expect this trend to contine.
🇺🇸 Global asset manager Franklin Tempeton has teamed up with Razer Fintech to develop its Singapore business in an attempt to penetrate the millennial investment market. It is estimated $68trn will pass down to millennials over the coming years and wealth managers everywhere need to adapt their solutions to the digital products millennials are used to.
🇺🇸 Brex, having embraced working from home for the past six months, is becoming a permanent remote-first employer.
Traditional Banking 🏦
🇪🇺 Sweden's larges bank, Sevnska Handelsbanken, is reducing its branch network and workforce by 180 and 1,000 respectively whislst promising to invest SEK1bn in IT over two years.
🇺🇸 Goldman Sachs has finally revealed how it will integrate Clarity Money, the personal financial management fintech it bought in 2018 for $100m. Goldman is integrating the company into its Marcus brand under "Marcus Insights" to provide aggregation and smart tools and trackers.
🙌🏻 Interesting note that customers cannot link their Apple Card even though Goldman is Apple's partner due to a strict data sharing deal between the two. Apple has previously changed the privacy policy for Apple Card to allow more aggregated, anonymised data (link)to be shared so this is not surprising. Apple is making a big point of retaining the detailed transaction information for itself. This data is extremely valuable and probably indicates Apple will be looking to leverage this data superiority in the future.
Fintech Infrastructure 🚧
🇪🇺 French BaaS startup Swan raised a €5m seed round led by Creandum.
🇬🇧 ClearBank will offer the ability to create multi-currency bank accounts via a connection to JPMorgan via an API connection.
🇺🇸Unifimoney has partnered with DriveWealth to add investment solutions to its product. DriveWealth provides an API for investment infrastructure, allowing companies to allow their users to buy fractional shares, plan for retirement, use robo portfolios and more.
🙌🏻 Unifimoney is a vertical challenger bank targeting high earning professionals. Investment solutions had been a key missing piece of their product offering which is solved with their partnership with DriveWealth. It also adds another revenue stream from the 0.15% annual management fee.
Payments 💰
🇪🇺 Internatioanl payments network Swift is looking for opportunities to expand beyond its financial messaging and offer member banks a range of transaction management services.
Regulatory Corner 🔬
🇺🇸 Leaked documents dubbed The FinCEN files have highlighted how big banks have allowed criminals to move money around the world. The files highlight the extent of the problem as $2trn of transactions were involved. Russian oligarchs particularly are accused of avoiding sanctions. The documents contain Suspicious activity reports (SARs) and are filled in if a bank is concerned about their clients activities. Banks included are HSBC, Barclays, JP Morgan, Deutsche Bank and Standard Chartered.
🇬🇧 The UKs biggest banks have pledged to do more to improve collaboration with fintechs, providing clear guidance to technology firms on the onboarding process.
🙌🏻 Whilst on the face of it, it appears like a great development for fintechs, there are skeptics out there on banks actions compared to their words. Read Alex Johnson's piece below for more details!
🇬🇧 UK banks have seen an sharp increase in impersonation scams in H1 2020
🇬🇧 UK regulator the Financial Conduct Authority (FCA) is increasingly concerned about customers access to cash with the shift to digital and is asking banks to provide analysis of these impacts when they close branches and ATMs. Unlike in the US, ATMs in the UK are multi-use and so predominantly free for any customer with a debitt card, regardless of their bank. However as banks close ATMs, private network of ATMs are appearing in independent grocery stores that do charge.
---
Longer reads
---
Startups of the Week ⭐🇺🇸🇬🇧🇪🇺
🇬🇧 Weavr is a virtual card provider aimed at both B2B and B2C. Consumers can benefit from a virtual card for group payments on a trip or for parents looking at ways to supervise their kid's spending online. For businesses it provides an easy way to give corproate cards to workers to avoid the hassle with submitting expenses as well as helping out with unwanted subscriptions. Weavr has raised ~$4.7m to date and is backed by Anthemis, Force Over Mass Capital and angel investors.
🇺🇸 MainStreet is a fintech that is helping startups get the tax credits that they deserve. By linking your payroll system, Mainstreet will match every month with federal, state and local tax incentives. On average a startup will save $51,000 with the cash advanced to you at 0%. MainStreet get a % of what cash they save for you. MainStreet raised $2.3m in June 2020 in a deal led by Gradient Ventures. For deeper analysis check out Packy McCormick's blog post.
---
Please get in touch to share your thoughts and comments!
Follow me on LinkedIn and Twitter.
Michael