Discover more from Fintech Across the Pond
All things Fintech from Europe and US
Over 1,000 subscribers
HODL PayPal.
Tweet of the week 🦉
Some advice above for entrepreneurs as they seek to find a co-founder. Do your diligence and try and avoid shotgun weddings.
Busy week in fintech, especially in the payments space with a new launch from JPMorgan as well as lots of fundraises in 🇺🇸.
---
If you enjoy reading this, please subscribe and share! 🙏
---
Recent News 📰
🇺🇸 PayPal is allowing its users to buy, hold and transact across its network using cryptocurrencies. Partnering with Paxos, PayPal will transact in fiat currency (USD) but will facilitate the conversion from crypto at the time of purchase. The jury is out on the impact on wider adoption of crypto and likely takeup by ₿ holders.
🇺🇸 The FDIC released its 2019 Household Use of Banking and Financial Services study. This was conducted pre-pandemic so we will have to wait another year to see the 2020 version.
🙌🏻 FATP Take - My highlights from the FDIC study can be found here.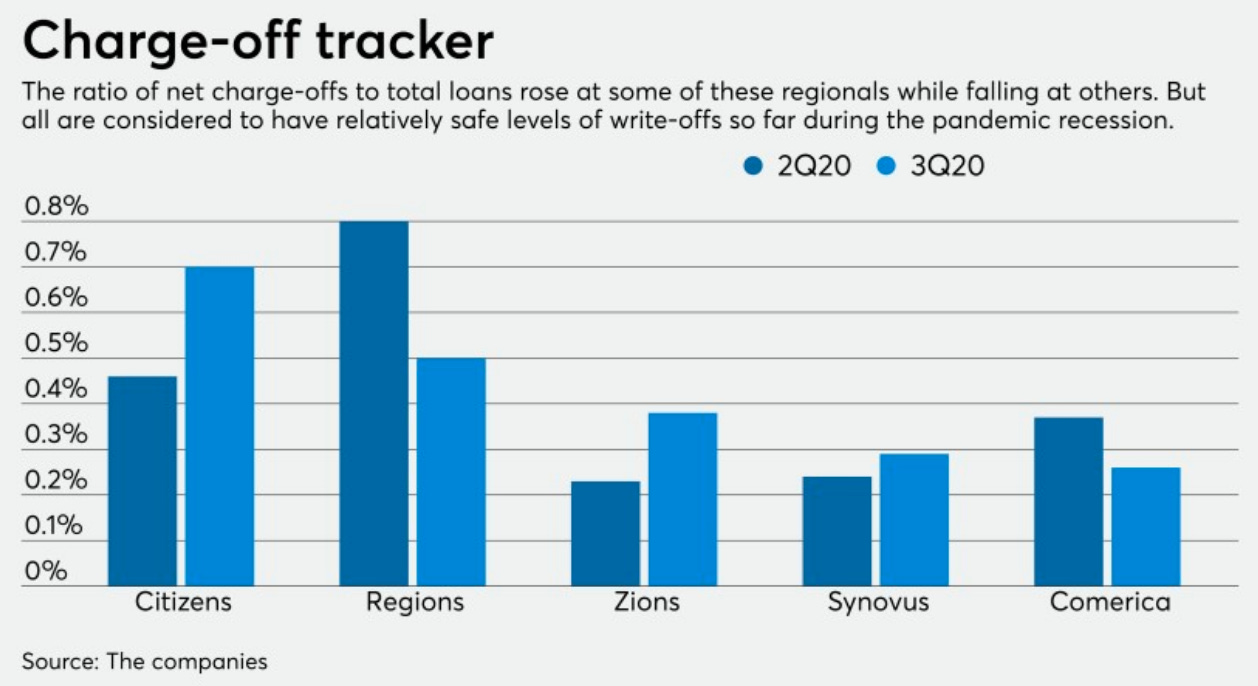 🇺🇸 Average credit scores in US have increased from 708 to 711 in July due to the government intervention but increases at times like this make it hard to lenders. This reaffirms banks lack of credit losses which have been reported recently for Q3 2020, as shown above. Capital One and American Express are looking to pounce.
🙌🏻 FATP Take - Although this partially covers the post Cares Act expiration, the lagged impact is likely to be significant. Research from Columbia University indicated the number of poor people has grown by eight million since then.
🇺🇸 After discovering two thirds of PayPal's 10,000 entry-level employees struggled to make ends meet, CEO Dan Schulman lowered healthcare costs 60%, gave all employees equity in PayPal, raised salaries and rolled out financial education to encourage savings.
🙌🏻 FATP Take - Employers MUST take a more active role in their employees financial lives, not just because it is the right thing to do but also because it has implications on their work. Schulman found after the changes employees were 4x more engaged and 3x less likely to leave. Especially for the under/unbanked, corporate's could be the 🔑 to bringing them into the system. Companies have to look beyond quarterly earnings to make these long-term investments. Payroll provider Gusto recently added some financial wellness products for its SMB customers to offer their employees.
Funding / Exits 💸
🇪🇺 Lunar, the Nordic challenger bank has raised €40m as it prepares to launch new products.
🇪🇺 Former Adyen employees have raised €2.6m for Silverflow for its cloud-native card processor. The round included Crane Venture Partners and Inkef Capital.
🇬🇧 Global Processing Services, the issuer processor behind fintechs such as Starling Bank and Revolut, received an undisclosed strategic investment from Visa.
🇺🇸 Billtrust, the accounts receivable automation tool, is going public via a SPAC with a $1.3bn valuation.
🇺🇸 Freelance banking app Lilli raised a $15m Series A primarily from existing investors but also added Zeev Ventures to its cap table.
🇺🇸 Digital lender Possible Finance has raised $11m in funding to lend to people with poor credit.
🇺🇸 Credit underwriting software provider Zest AI raised $15m from Insight Partners who join Plug and Play, Haymaker Capital, Thiel Capital, Lightspeed and Matrix Partners on the cap table.
🇺🇸 Pulley, a cap table management software tool has raised $10m in a round which was led by Stripe and included 8VC, General Catalyst and YC. The company competes with Carta which is rumoured to be raising $200m at a $3bn valuation.
🇺🇸 FinLocker, a data analytics platform for mortgage lenders raised ~$20m from St Louis Arch Angels and TransUnion with participation from existing investor Cultivation Capital.
Challenger Banking 🚀
🇪🇺 Yolt has added a spending account and debit card to the list of products it offers its 1.5m registered users.
🇬🇧 Monzo unveiled its Premium account, costing £15 per month with a minimum term of six months, so it can at least recoup the £50 cost of manufacturing the card. It comes with phone and travel insurance, 1.5% interest on up to £2,000 and £600 worth of free withdrawals every 30 days abroad. Meh.
🇺🇸 Bella, a new challenger bank has launched. An awesome thread of its different take can be found here from Paul Loberman.
🇺🇸 Urban One has launched One VIP, a prepaid debit card that rewards uses 1.5x by shopping at select Black-owned brands and 1x at other big-name merchants.
🇺🇸 Whatsapp is making it easier for businesses to sell directly within chats on the platform as well as hosting services for businesses to set up shop and for users to shop.
🇺🇸 Agility Bank, a female-owned digital community bank received FDIC and OCC conditional approval to launch.
🇺🇸 Google launched Lending DocAI, a tool to help mortgage companies speed up the process of evaluating applications. This builds on their work with Document AI and will compete with Ocrolus, one of my top fintechs to watch.
Traditional Banking 🏦
🇪🇺 According to Reuters, Deutsche Bank is in talks to sell its IT unit Postbank Systems AG, which provides IT to its retail operation Postbank.
🙌🏻 FATP Take - IT is not a banks core competency and this could help drive more innovation at DB as well as reducing the company's costs.
🇺🇸The American Bankers Association and FDIC called for more banks to offer affordable consumer accounts to reduce the number of unbanked households.
🙌🏻 FATP Take - These types of accounts are already available via JP Morgan, Citi, BofA, Wells F and around 40 other banks. Not to mention challenger banks. So why aren't the unbanked taking up these accounts? The ABA and FDIC don't really know the answer to this fundamental question. My highlights from the FDIC study can be found here.
🇺🇸 US banks reported an increase in digital penetration for Q3 2020;
Wells Fargo saw 6% yoy increase in digitally active consumers to 32m and 7% increase in active mobile customers to 25.9m.

BofA saw 3% yoy increase in active digital bank users to 39.3m and 7% yoy active users of mobile banking to 30.6m.

Citi saw 3% yoy increase in active digital customers to 20m and 4% rise in active mobile customers to 13m.
Payments 💰
🇬🇧 The British Retail Consortium (BRC) is lobbying the UK Government to crack down on fees charged by Visa & Mastercard.
🙌🏻 FATP Take - Mastercard charges 0.3% for credit and 0.2% for debit in the UK but charges from 0.3%-1.5% for credit and 0.2%-1.15% for debit in US (link). With open banking bringing account-to-account payments, V/MA will be looking to get ahead and still capture some interchange but will be a lower margin business.
🇺🇸 The mPOS space is heating up with JPMorgan, Visa and MagicCube getting in on the action this past week. MagicCube launched i-Accept turning Android devices into POS whilst Visa launched its "Tap to Phone" technology in 15 markets.
🇺🇸 JPMorgan has released QuickAccept, a program to allow merchants to accept card payments via an app or physical reader, taking on POS giants Square and PayPal. Key offering for merchants is sales hit their Chase bank account the same day. Square shares took a tumble📉.
🙌🏻 FATP Take - It seems JPM is getting serious about SMB banking and is looking to move a large amount of its 3m SMB customers to the new service for their all-in-one Chase Business Complete Banking solution for a turnkey integrated solution.
---
Longer reads 📜
---
Startups of the Week ⭐🇺🇸🇬🇧🇪🇺

🇪🇺 Silverflow is a cloud native card processor which touts cost and speed as its benefits compared to traditional payment service providers. Silverflow focuses on the acquiring side of payments as opposed to issuing fintechs like Marqeta. The company is targeting larger merchants whose volume ranges from €500m to €10bn.
The company was founded by ex-Adyen employees Anne-Willen de Vries, Robert Kraal and Paul Buying. They bring a wealth of expertise from their time at Adyen and their investors include B2B focused UK VC Crane but also industry leaders Pay.On, First Data, Booking.com and their former employer Adyen.

🇺🇸 Ellevest is an investment and personal finance platform designed for women. As highlighted in the New York Times article above, female empowerment is focused on the gender salary gap and not how to better understand and manage finances. Enter Ellevest. Founded in 2014 by Sallie Krawcheck, the membership platform provides financial education, money goal tracking, coaching and retirement planning which factors in realities for women such as career breaks, pay gaps and life expectancy. McKinsey pegs the value of assets controlled by American women as $30trn by 2030📈.
Sallie brings a wealth of financial services experience from running Smith Barney, Citi Wealth Management and Merrill Lynch Wealth Management. The company has raised $73m to date from investors such as AVG, MasterCard, PayPal, Khosla Ventures and notable angles including Max Levchin, Mohamed El-Erian and Venus Williams.
---
Your feedback is a 🎁, please give below 🙏
---
Follow me on LinkedIn and Twitter.
Michael