Discover more from Fintech Across the Pond
All things Fintech from Europe and US
Over 1,000 subscribers
Regulating for good.
There's $7 trillion of market cap for U.S. based financial institutions. In most major industries, the "challenger" technology company is now the most dominant. This has not yet happened in finance. - Seth Rosenberg, Greylock Partners
A busy week in the world of fintech with lots of moves from regulators on both sides of the pond as well as fundraises from the likes of Revolut, MoneyBox, Plum and Bond. A very exicting week for crypto followers as well. Enjoy!
---
If you enjoy reading this, please subscribe and share with your family, friends and other fintech enthusiasts!
---
Recent News
AliPay, the consumer banking app in China that is part of Ant Financial, has claimed to have reached 1.3bn in active users as of March. This is a HUGE milestone for a fintech and comes as the company expands into more Asian markets such as India, Korea, HK, Malaysia and Indonesia. Its rumoured to be IPO'ing this year at a $200bn valuation.

findexable has launched a Global Fintech Index, a real-time ranking of fintechs to benchmark ecosystems and fintech companies.

Intersection Growth Partners has published an Airtable cataloguing almost 200 fintechs.

In a move set to harm borrowers, the NYT reports that the CFPB has removed plans to limit payday lending, a $30bn industry with high interest short-term loans that pray on the most vulnerable.

The FCA and City of London Corporation are creating a digital sandbox to give startups and large financial institutions access to datasets used for testing new technology solutions to help the UK recover from the pandemic. Another example of how regulators need to provide safe and secure ways for testing of new technologies and piggybacks on the great work of the FCAs "Innovate" program which has helped 700 firms increase speed to market by 40%.

OCC has given banks the green light for US banks to offer custody services of cryptocurrency assets which will set off the starting gun for dominance of the crypto market.

After the recent drama with Wirecard, the UK Government is launching a review of the fintech industry in order to help support its ongoing success in a post-Covid world. The review will be passed to HM Treasury at the beginning of 2021.

The UK government is expanding its financial promotions area to include certain crypto assets, aiming to safeguard consumers from misleading sales tactics.
Challenger Banking
Revolut has added $80m as part of its Series D it announced in February from TSG Consumers. The round valued the company at $5.5bn.

Robinhood has disappointed over 54,000 UK customer who signed up to its waitlist by pulling its launch. It's FCA license was due to expire 12 months after being granted back in August 2019 and the company is returning focus on its core US market which has seen explosive growth since the pandemic began.
Retail Banking
Chip, the smart savings app, is offering customers interest-bearing savings accounts with a rate of 0.9% for an easy access account, significantly beating incumbent high street banks similar products (Santander 0.05%, Lloyds 0.05%, Barclays 0.25%).

Plum, another smart savings app has announced a $10m funding round led by Global Brain, EBRD, VentureFriends and matched by the UK government's Future Fund. Plum links to to your bank account and automatically saves money for you every few days through roundups and regular saves. Also included is the ability to invest and save into interest earning accounts at a rate of 0.6%. Not quite as good as Chip's rate but still beating UK high street banks.

Moneybox, a third competitor in the space, has raised €33m via its Series C and is planning a crowdfunding round later this year. The company reached a milestone recently with €1bn AUM and 450k users. Funding came from existing investor Eight Roads and new investors including Breega and CNP.

Unlike the UK, where there are a small number of banks, both Europe and US have thousands of deposit-taking institutions, including credit unions and community banks. The 5 largest US banks hold over 40% of deposits, leaving the other ~60% split across another 5,000+ institutions, making economies of scale a challenge. These banks lack both digital products and the money to develop them so an industry is developing to cater to these companies to better serve their customers digitally and to better compete with the larger banks. Covid is only accelerating the shift as community banks strive to become PPP lenders quickly to get in on the action, with companies like Middesk and Orcolus benefitting. Some help from FDIC and OCC would help with information sharing and support for innnovation but that seems unlikely due to the culture of regulators in US.

Yolt, the personal financial management app, has added pay-by-mile insurance provider By Miles to its list of partners it offers customers to have better control of their money. By Miles charges a fixed annual fee to cover vehicles while they are parked then charges a per mile fee for usage. When miles driven have dropped dramatically across the globe, this provides a potentially cheaper way to own and insure a car. Many city-dwellers rarely use their car yet pay a high annual premium for little usage.

Customers of India's YES Bank have a new way to ask common questions and apply for products as the company rolled out a chatbot on WhatsApp, built upon Microsoft Azure. Customers can check balances, order cheque books, report unauthorised transactions, connect to call centers and apply for over 60 banking products. A great example of a bank putting customers first and helping to lower their own costs and another way that Asian financial services are leading from the front.

Scalable Capital, alongside a new partnership with Barclays, has raised €50m in Series D funding from existing investors which include Blackrock, HV Holtzbrinck and Monk's Hill Ventures.
Fintech Infrastructure
Mantl, a fintech enabling banks and credit unions to grow deposits by having a streamlined account opening process raised $19m, an extension of its $11m Series A with investors Point72 and Clocktower. The company has been riding the previously mentioned tailwind of smaller banks seeking to digitise their processes and it has seen a 70% increase in deposit volumes across customer base in April!

Yapily, an open banking platform has partnered with Salad Money to provide NHS staff with more loan options.

The ECB is focusing its attention on financial institutions IT systems and is pushing them to simplify their infrastructure and highlights the risk of increased IT outsourcing.

HSBC has led a $7m funding round for API platform Episode Six, with investments also from Mastercard. The fintech enables banks to overcome legacy infrastructure and build digital products through its suite of 500 APIs.
Payments
A detailed report from Reuters into the Whatsapp Pay launch in Brazil sheds some light into what happened, essentially a miscommunication. A common problem that we are bound to see more of as tech companies try to launch quickly and regulators unable to keep up and demonstrates the need for hand-holding regulators. Sometimes it is not better to ask for forgiveness not permission.

Afterpay, a "buy now pay later" checkout option will be available in select US retail stores, enabling customers to instantly get an installment loan for the items they are purchasing. Users will select the "card" feature in the Afterpay app which activates the card in Apple Wallet.

Privacy.com, an issuer of virtual cards, raised a $10m Series A led by Teamworthy Ventures and included Tusk Venture PArtners and Index Ventures. Virtual cards are used to limit fraud by providing disposable cards to be used for different merchants and enables an easier way to prevent large scale fraud. As more and more payments move online or mobile, will be one day no longer have any physical cards? An added benefit is the ability to have a new card issued in real time with updated payment details to your mobile wallet. Could we see an even easier way to update lots of e-commerce sites and subscription services when you get a new card?

Banks in Argentina are taking on PayPal by creating their own P2P money transfer app Dimo. 20 banks are collaborating and it will be interesting to see how the incumbents service stacks up against PayPal's.

Affirm has partnered with Shopify to power its Shop Pay Installments checkout feature.

Lloyds Bank is getting serious about its payments architecture and has taken a minority stake in Form3 as part of the UKs New Payment Architecture Program (NPA). The NPA will provide a single clearing and settlement core as the backbone for payments in the UK which incorporates new messaging standards fields. The NPA will be a boon for B2B payment companies like Form3 but will likely see further value destruction for Visa and Mastercard as payments moves away from cards to more bank to bank.
Embedded Finance
Bond announced its $32m Series A round led by Coatue and includes Goldman Sachs, Mastercard and B Capital in the round. Bond enables embedded finance by connecting digital brands who want to deliver financial services to their partner banks that provide the infrastructure.

In an interesting but non-fintech read, Vox has 21 ways in which the US is changing on a macro level.
---
Fintech Partnerships by Finnovating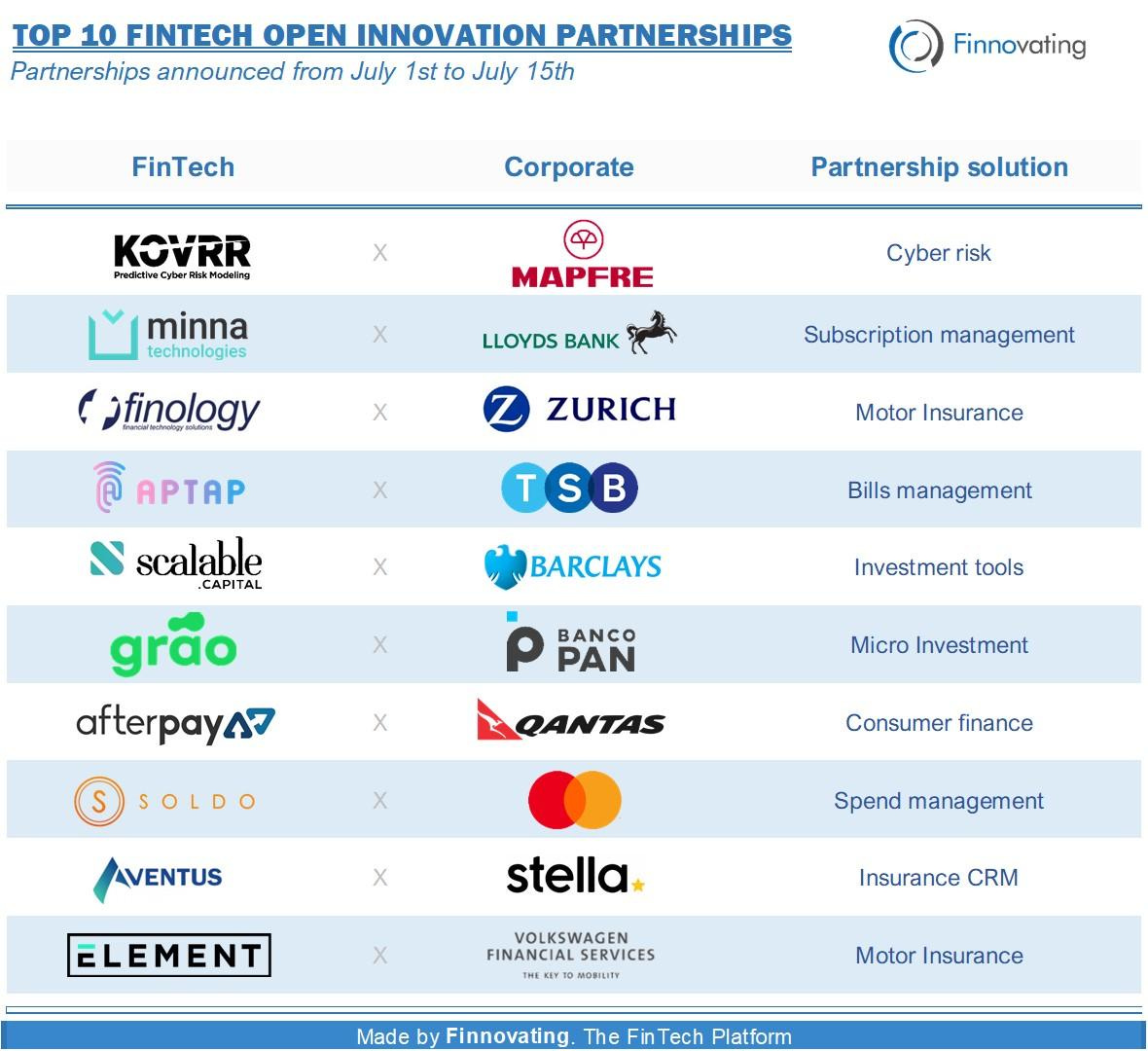 ---
Longer reads
Great read by Ayo Omojola, formerly at Cash App, YC and Wharton MBA, about API routing layers. A routing layers enable access of multiple integrations of providers through one API. Think of it like one master API with multiple underlying APIs. This sort of structure is becoming more common and challenges with Wirecard are bringing this to the forefront. Being reliant on one partner leaves you very exposed to risk but an API routing layer enables you to seamless switch between services.
---
Startup of the Week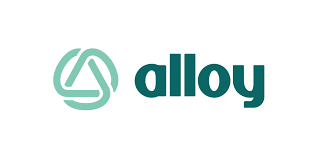 Alloy is an identity platform that helps financial institutions with KYC, AML and fraud. It is a great example of the API routing layers mentioned above as it enables customers to have access to 60+ underlying data sources through their single API for real-time decisioning and provides a central system for easy mannagement.
Alloy has raised $16m to date from investors including BVP, Clocktower Technology Ventures and Plug and Play.
Alloy is used by Brex, Maqueta, Petal and Radius Bank to name a few!
---
Please get in touch to share your thoughts and comments!
Follow me on LinkedIn and Twitter.
Michael